Biotage®
V-10
Evaporator
High Performance Concentration System for Optimized Results
Biotage® V-10 solvent evaporation system rapidly dries samples dissolved in both aqueous and organic solvents up to 20x faster than traditional rotary or centrifugal evaporators, leaving solvent-free product in the vial. This innovative vortex and vacuum evaporation technology was developed through collaboration with major pharmaceutical companies.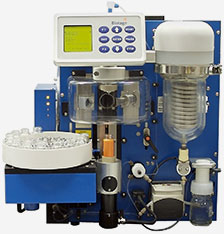 Blowdown
Evaporators
Fast Evaporation with Patented Vortex Technology
TurboVap® blowdown evaporators use a patented vortex evaporation system that increases the speed of evaporation by a factor of 10 compared with other techniques. The combination of patented nitrogen gas vortex shearing technology and temperature is used to optimize sample drying. Nitrogen is recommended due to its inert nature which minimizes sample oxidation.
-TurboVap® II
Number of samples: 1-6
Max. sample volume: 200 mL
-TurboVap® LV
Number of Samples: 50
Max. sample volume: 30 mL (60 mL with ASE version)
-TurboVap® 500
Number of samples: 2
Maximum sample volume: 500 mL