Biotage®
Initiator+
Automation for Microwave Assisted Organic Synthesis
Biotage® Initiator+ can be upgraded from a single-sample manual format to an automated 8- or 60-position system. The modular design allows a user to add on different automated sample processors dependent on throughput requirements.
The 8-position sample bed gives the user a compact automation solution to start scale-up process and library build-up. The 8-position system is useful in a multi-user environment or for queuing multiple reactions. Flexible operation enables the use of both large and small vials in combination at any time and in any order without manual intervention.
The 60-position sample bed supports the production of focused libraries, multi-user environments and scale-out, and use of both large and small vials in any order without manual intervention.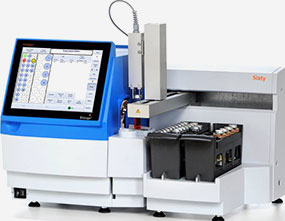 Automated Microwave Peptide Synthesizer
Biotage is the only manufacturer of room temperature peptide synthesizers and microwave peptide synthesizers in both entry level and high throughput configurations. We offer a range of manual, semi-automated and fully automated systems depending on your peptide synthesis needs. Whether you require a system that makes a single peptide or multiple peptides in parallel, we have an instrument to suit your requirements.