ISOLUTE®
SLE+
Supported
Liquid
Extraction
Products
Load-Wait-Elute Sample Preparation
ISOLUTE® SLE+ Supported Liquid Extraction plates and columns are designed to provide stress free extraction of analytes from biological fluids, with high analyte recoveries, and clean, protein and phospholipid free extracts. Methods are easy to develop, and automation is simple.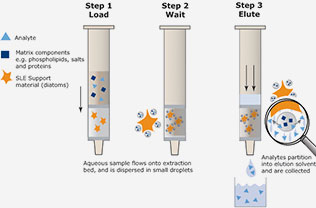 ISOLUTE®
SPE Columns
and Plates
Sorbents and Formats for Reliable SPE
The enhanced RapidTrace®+ broadens usability and increases instrument performance. RapidTrace+ is compatible with industry standard 1, 3 and 6 mL syringe type columns and is compatible with all Biotage ISOLUTE® and EVOLUTE® products in these formats.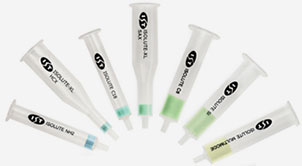 Solid Phase Extraction Columns for
Mycotoxins Analysis
One product with multiple applications, simplifying and streamlining your mycotoxin analysis procedures.
; aflatoxin B1, aflatoxin B2, aflatoxin G1, aflatoxin G2, ochratoxin A, fumonisin B1, T-2 toxin, HT-2 toxin, zearalenone, deoxynivalenol, ergocornine, a-ergocryptine, patulin.
ISOLUTE®
PLD+ Protein
and
Phospholipid
Removal Plates
Effortlessly Enhance Analyte Sensitivity
ISOLUTE® PLD+ Protein and Phospholipid Removal Plates provide a very effective but extremely simple sample clean-up for LC-MS/MS analysis. Requiring next to no method development, ISOLUTE PLD+ can be integrated quickly and easily into routine workflow, increasing productivity and reducing instrument downtime.