Biotage®
Extrahera™
SLE, SPE, PLD and PPT Automation
Extrahera™ is a powerful, user friendly automation system for Supported Liquid Extraction (SLE), Solid Phase Extraction (SPE), Phospholipid Depletion (PLD) and Protein Precipitation (PPT) based methods, in plate or column formats.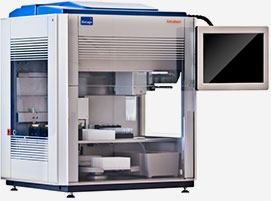 RapidTrace®+
Rapid Automated Sample Preparation
for Routine Processing and Method Development
The enhanced RapidTrace®+ broadens usability and increases instrument performance. RapidTrace+ is compatible with industry standard 1, 3 and 6 mL syringe type columns and is compatible with all Biotage ISOLUTE® and EVOLUTE® products in these formats.